Guitar Interactive is "the world's first fully interactive digital magazine for guitarists the world over – and it's completely free!". The magazine layout mimics a printed magazine with pages and navigation through grabbing the corners with your mouse pointer. Normally I'm quite allergic against publishing magazines in a digital-trying-to-look-like-print way, it just brings the worst of both worlds.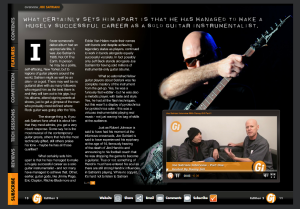 However, when done in the way Guitar Interactive does it – with animated elements, loads of interspersed videos with lessons and interviews etc. I actually get more of a Harry Potter feeling (in a good way!) of a magazine with a life of its own.
Each issue has over 4.5 hours worth of video material as well as written articles, lessons and interviews. And it's no B stock of guitar slingers, the issues so far have featured David Gilmour, Satch, Zakk Wylde and Joe Bonamassa.
I really only have two issues with Guitar Interactive. One is that I would really want this for my iPad, but it's Flash-based so no go. It's also really annoying that a lot of the video-based ads start automatically and are quite loud.
Check out this great magazine here: http://www.iguitarmag.com