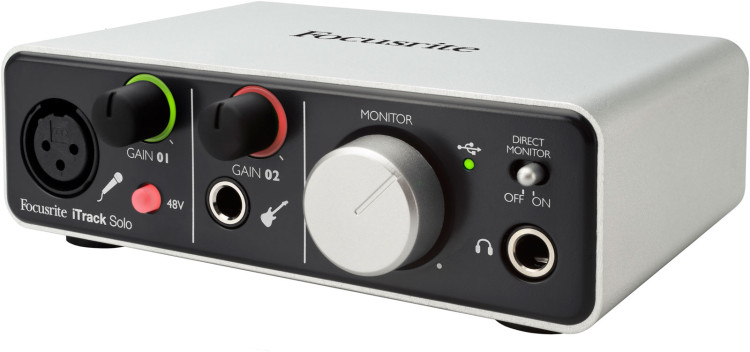 Focusrite are famous for their high-quality external USB audio interfaces for Macs and PCs. Especially their preamps get consistently good reviews as being especially clear and defined. After much research I decided to put a Focusrite Scarlett 2i4 on my Christmas wishlist.
During the autumn of 2012, Focusrite has released another interesting interface called the iTrack Solo. It's pretty much a standard Focusrite USB interface like the 2i2 or the 2i4, but with just one input – a combined instrument cable/XLR connector like on all their other devices. What makes iTrack Solo stand out though and what's given it its name is that it has an iPad connector as well as a USB connector. And of course it connects digitally to the iPad using the docking port, rather than analog like som earlier audio interfaces for iPad and iPhone.
If you want to record on your iPad and on your computer, this could be a really interesting option. This is probably the most advanced audio interface for iPad around. I've decided, however, it's not the optimal setup for me, for a number of reasons:
One instrument input is not enough, I really like the option of two simultaneous guitars (for jamming).
No MIDI.
No iPhone support – I use my iPhone with my guitar all the time
No balanced outputs
I already have to great iPhone/iPad interfaces (one Apogee Jam and one GuitarJack).
But for someone with an iPad and no decent external interface for their computer, this could be a great alternative.
Specs from Focusrite.com:
2 in / 2 out USB audio interface
96 KHz, 24-bit conversion
1 Focusrite microphone preamplifier
Silver "soft-touch" aluminium unibody chassis
Front panel
1 microphone input – XLR
1 Instrument input – ¼' unbalanced
2 Gain knobs
2 Gain halo signal indicators
48V Phantom power switch
Direct monitor switch
Large monitor level dial (controls headphone and line level outputs)
USB Connection LED indicator
Headphone output – ¼" TRS Jack
Rear panel
2 unbalanced monitor outputs – RCA Phono
DEVICE LINK port (to connect iTrack Solo to iPad)
USB 2.0 Port
Kensington Lock slot