The tab authoring app Progression for iPad was only available in a restricted free version when I last wrote about it. Recently the full version was released, with lots more instruments and support for opening Guitar Pro files, which you can download using an in-app browser.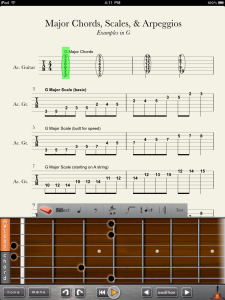 The price is quite reasonable at €3.99. Some basic instruments, like an acoustic guitar, an electric guitar and an electric bass are included. Others like nylons and banjos are in-app purchases at €1 each.
The only thing I'm really missing is export to guitar pro format… I couldn't find any drums, but that is not an issue for my own tabs as I only do the guitar tracks. I also still haven't tried the desktop version that's available for Mac and Windows.