Since I reviewed the then-leading iOS guitar interfaces, a lot of new products have entered the market. One is the GuitarJack from Sonoma Wire Works. The nice people at Sonoma sent me the Guitar Jack model 2 for review for review.
Overview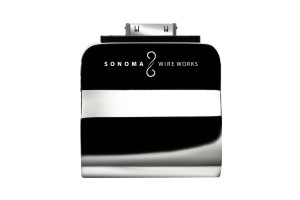 The GuitarJack 2 is a docking-port interface like the Apogee Jam, unlike the iRig and AmpKit link among others. Owning a couple of headset-connected interfaces, I'd never consciously choose one of those over a docking-port connected interface. The difference in sound quality is just too large, especially when it comes to noise and feedback. The docking port devices have their own on-board
D/A converters and send the signal digitally into the iOS device, whereas the headset interfaces are just analog splitters (with or without battery powered preamps). They use the phone's or iPad's built-in D/A converter, the one used when you make a call – not specifically engineered for audio production. Manufacturers like Peavey have realized this as well, so the new generation AmpKit Link HD is a docking port device where the previous version was a headset device. The Apogee Jam is my everyday docking-port interface, so comparisons to it are inevitable in this review.
Specs
The GuitarJack 2 has actually has three jacks – one instrument input (5,6 mm) for guitar, bass etc., one amplified headphone output (3.5 mm) and one microphone/line input (3,5 mm).
Device powered (no batteries required)
Up to 72 dB amplification of the digital input signal (compared to 40 dB in the Apogee Jam).
Configured via a Guitar Jack control panel available in Sonoma's own apps
24-bit D/A conversion
Allows simultaneous input and recording from both the instrument jack and the mic/line jack (in Sonoma's FourTrack app)
Overall Impression
I've been using the Guitar Jack almost every day now for a short practice session at my lunch breaks for maybe two weeks. The device has been very reliable and I've gotten a great tone from it with AmpKit, which is my regular iPhone amp sim. Two times the input sound from the guitar has started crackling and breaking up, but removing and re-attaching the GuitarJack to the phone has fixed that right away. It could be something related to app switching, not sure. I've never experienced that with the Apogee Jam.
The GuitarJack seems to follow Apples specs for audio devices more closely than the Jam, which I always have to plug in before starting AmpKit – no such problems with the GuitarJack. The GuitarJack also has a built-in connection to its app counterpart called GuitarTone, so as soon as you plug it in it will look for the app on the phone and optionally direct you to the app store if it's missing. That's a great way to get started with the device, but a little annoying in long run if you use a different app.
I'm not crazy about that you change the GuitarJack's settings in a control panel inside an app. I miss the hardware gain control and clipping led a bit. On the other hand there are a lot more settings available for the GuitarJack. Also, the settings are remembered in the device, so you can open the control panel in an app that has it and then switch to another app without. I think the control panel as a separate app would be a nice addition.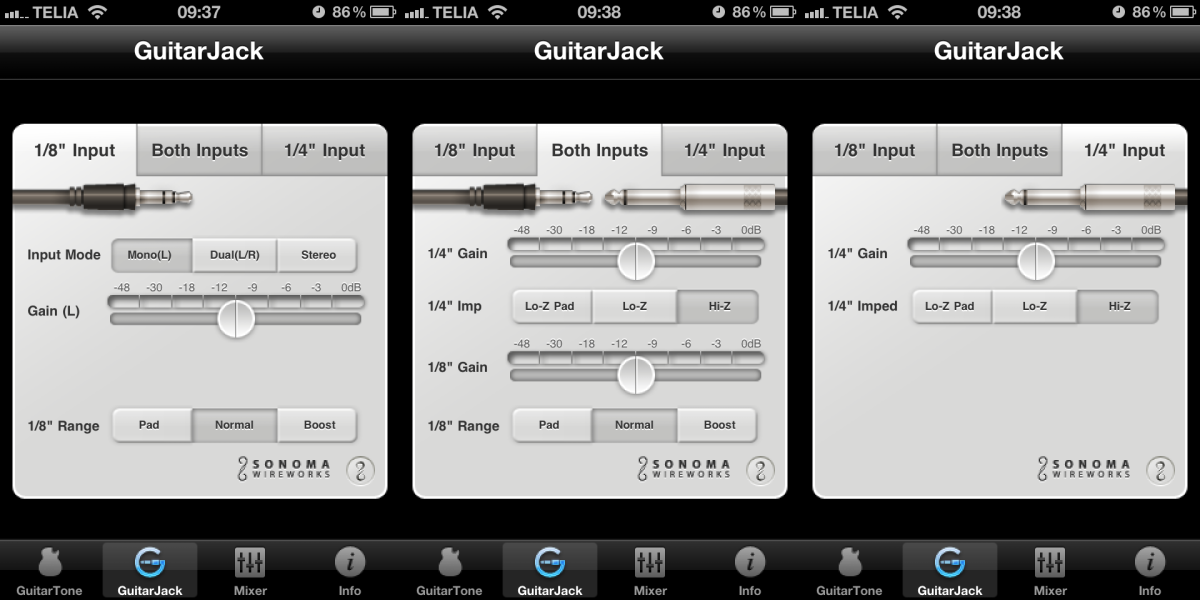 The amplified output jack is a great feature. You probably won't absolutely need it for headphones, but when running it into a PA it's very handy. I run the regular headset output into the amplified mixer in our rehearsal space all the time to play backtracks, and I need to crank the volume on the mixer almost all the way up. Surprisingly the output on my iPad (first gen) is even weaker. Subjectively I'd say the volume level is about doubled when using the GuitarJack output, a very welcome feature!
The GuitarJack is has an all-metal encasing and with a confidence-inspiring weight you get the impression you could probably throw it under a truck without a scratch on it (didn't try that :-)). Its docking port connector is mounted directly on the device, so there's no cable that can go missing or break (the cable breaking is my main worry with the Apogee Jam). It also comes with a small carrying pouch if you want to keep it pristine.
All in all I'm very impressed with the GuitarJack. With it's many inputs and outputs and different settings it's a great one-in-all device to convert your iPhone into a portable practice and recording studio. The sound quality is great and there are a lot of settings. It's more expensive than the Apogee Jam which can used as an audio interface for a Mac as well, but for someone like me with an iPhone but no Mac the GuitarJack clearly has more usable features. It's slightly too heavy to keep in a jacket pocket all the time, but I consider doing that anyway :-).
Sound Clips
Here's a few recorded clips with the GuitarJack, compared to some identical ones recorded with Apogee Jam. Both have been run both through AmpKit and exported dry and reamped with LePou's plugins on a computer. Honestly, I can't spot a difference between the two. This is a really good mark for the GuitarJack as I hold the Jam very high in esteem when it comes to audio quality, especially the lack of hiss and noise. I've used AmpKit for the test since that's the app I'm most used to, trying out Sonoma's  GuitarTone app is a matter for a different review.
Sound clip is divided as follows:
00:00 – 00:27 GuitarJack through AmpKit, wet tone soloed (Marshall-style tone)
00:27 – 00:55 Apogee Jam through AmpKit, wet tone soloed (same patch as above)
00:55 – 01:09 GuitarJack dry tone soloed
01:90 – 01:22 Apogee Jam dry tone soloed
01:22 – 01:50 Mix with GuitarJack wet tone panned left, Apogee Jam wet tone panned right
01:50 – 02:45 Mix with GuitarJack and Apogee Jam dry tones panned L/R and run through LePou's Legion VST amp sim for a more modern metal tone.
[soundcloud id='51582147′]