This might be the coolest thing I've seen in… well, a long while! A hardware pedal you can load your regular VST amp sims into and bring to rehearsal or a gig. To quote the manufacturer SM Pro:
It's no secret that some of the very best guitar tones and effects are now being created from within computer software plug-ins. The V-Pedal gives guitarists access to these and many more sound options in a dedicated floor stomp box.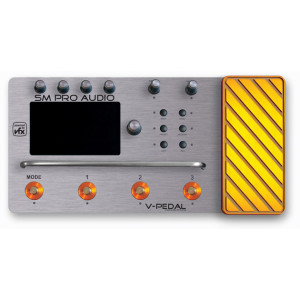 You just upload the VSTs (yes multiple) via USB from your computer. My only worries are compatiblity issues and latency – if these are just worries this is probably the coolest guitar hardware in ages.
Here are specs provided by the manufacturer:
External hardware host for Windows plugins (VSTi and VST FX)
MIDI learn functions included
Create synth layers and chain them with effects
USB-Ports for copy protection dongles
Multiple VSTi's can be combined
Programmable stomp switches
All effect and/or synth chains can be switched latency free
Rotary encoders
Play software samplers and stream its content from any USB drive
Programmable expression pedal
Banks, presets can be edited with the V-pedal or the host software
Connect nearly every MIDI-Controller to the V-Pedal
1,5 Ghz CPU
2 GB Flash Memory for plug-ins and presets
512 MB RAM
24Bit / 192kHz DAC
2 Mic / line inputs (combo)
MIDI in and out
2 TRS outputs
2 XLR outputs
1 USB to host port for connecting with the computer
1 headphone output
12V power port
2 USB ports for dongles and/or controllers