Line 6 just jumped into the fray of software amp modelers on the iPhone and iPad, as well as guitar interfaces for said devices.
Mobile POD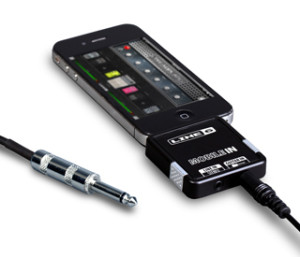 Line6's mobile amp modeling contender is going to be free (according to the press release) with 32 amp models, 16 cabs and 16 stomp boxes. They also promise 10 000 tones created by guest artists and users, accessible from within the app. You can also use songs from your Itunes library.
Mobile In
The Mobile In is a guitar interface connected to the dock port, with its own digital converter – just like the Apogee Jam (unlike the iRig and AmpKit link that relay analog audio via the headphone jack). It has two input jacks, one for guitar and one for regular stereo line in input, a feature not found in any of the other interfaces. However, from pictures it seems to require a special guitar cable which is a 3.5 mm tele connector in the interface end (cable is included), which is kind of stupid.
I'm currently very happy with my AmpKit + Apogee combo, but competition is always good.
Line6.com has more info on the Mobile POD and the Mobile In, which are to be released during the fall.