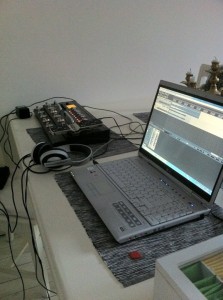 Remember how I urged bands to sell us, the unorganized global league of bedroom guitarists making covers, official multi-stem backing tracks? Well, apparently something is happening is that department!
One of the pioneers in this area is Trent Reznor of Nine Inch Nails, who have released stems for their songs under the creative commons license and shipped them with their limited edition releases. This was done almost more as a political statement rather than trying to woo the home musician community (although it served both purposes).
Recemtly, Dream Theater released the stems for On the Backs of Angels as a bonus download for those who purchased the new album. Here's a sample of the guitar stem:
Closer to home, Ola Englund of Feared has previously released stems for one of his tracks. For his latest album Rejects he released stems for all his tracks on the DVD you get when you buy the limited edition (which I just did). With such a large following by fellow guitarists, I think this is a killer bonus feature that will tip the balance towards buying the album.
So why do you want the stems? Four reasons:
Mixing practice – can you make a better sounding song than the artists themselves?
Recording covers – it's very inspirational to have an original backing track with vocals rather than a MIDI (however nicely pimped with nice VSTs)
Inspiration – I'm going to make my programmed drum fills a lot better by studying Ola's MIDI files for Superior Drummer.
Reference – it's a goldmine having an isolated guitar track to compare to what it sounds like in the final mix. This will make your own quest for the perfect guitar tone much easier. I'm specifically going to hone my re-amping skills with Ola's DI guitar tracks.