Reaper, my favorite DAW, has just been released in version 4. The makers Cockos are quite modest and describe the Reaper upgrades as evolutionary, not revolutionary, but the new version is packed with good stuff! I've only more or less started it up, but immediately found a small but great new feature. The included EQ VST ReaEQ now has a built in live spectrometer, that shows you what the current track's wave form looks like in realtime, including the resulting changes to parameters as you drag a band.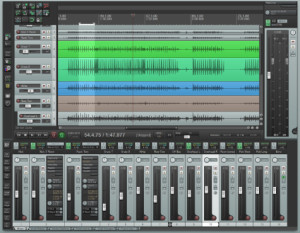 Here are a few highlights of the new features:
New layout engine, that allows you to save different layout presets that are easy to switch between with hotkeys. This make stuff like focusing and zooming in on a track easy, minimizing tracks and expanding the mixer etc.
Envelope editing functionality
New MIDI editor
Multichannel (surround) support in mixers, meters, panning etc.
Lots of improvements and new options in selection, copy, paste, drag etc. of track items.
Better media handling.
Synthopia has a comprehensive list of changes.
Best of all? Private license, full version: $60. Get it now at http://www.reaper.fm.