Redwirez is one of the most famous impulse response makers. They have a catalog of 49 cabinets that have been sampled with lots of mics in all possible positions. The full bundle is $125, but they're giving away one of their cabs for free. And it's a famous one – and the perfect complement to the freely available Mesa cabs (God's, Sperimental and Catharsis) – the Marshall 1960A 4×12 with Celestion G12Ms.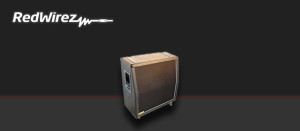 Redwirez has made impulses from this cab using 17 (yes 17) different mics in four different positions at 9 distances – totaling in a staggering 777 impulses. It's actually a bit too much for a hobbyist like me, I'd be happy with just 5 good impulses :-).
To get your copy of these impulses, visit Redwirez's site and input your email and name to get a download code.
To match these impulses, LePou has made an amp sim called HyBrit based on an "unnamed British amp" :-).