AmpKit is my absolute favorite iPhone app. It's a fully fledged digital amp modeler with lots of gear and recording capabilities that I've written about before. There's also Amplitube for iPhone that does pretty much the same, even though AmpKit is my favorite.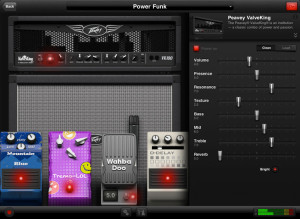 On a forum someone asked if there's an Ampkit for Android, or something like it. I googled a bit and I could tell immediately there is no version of AmpKit for Android, and no Amplitube either. Why? Well, there are a number of reasons, the most important is hardware divergence.
Getting an amp modeler on a computer to work without latency is not the most easy thing to accomplish. It's impressive it can be done so well on a phone, but one of the reasons it can be done is that there are a very small number of hardware configurations on iPhones, iPads and iPod touches.
An uncorroborated rumor says that Rovio, the developers of Angry Birds, compile three versions for iOS and over seventy (!) versions for Android for each release. Just considering supporting that number of sub-platforms in a hardware-dependent time-critical app would probably make even the most experience software company shy away – and it has.
IK Multimedia, the makers of Amplitube, have also said that Android currently (in a post from February 2011) lacks the realtime audio support needed for the app to work, but that this seems to be addressed in newer Android versions. In the meantime, I'm just happy I have an iPhone (for this reason and others).
Update: There might be some hope now – Low Latency Audio Comes to Android – Will Amp Sims Follow?