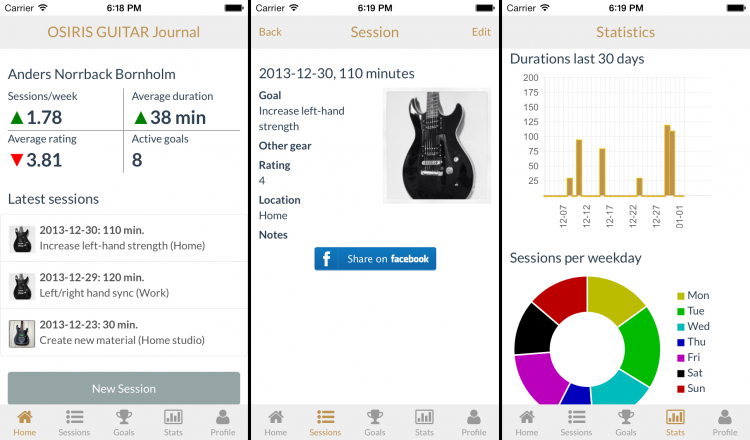 Almost every guitar (or other instrument) teacher agrees that the best way to get the most out of your practice time is to keep a journal. A practice journal helps you with planning what to practice, so you don't end up just noodling – although that is fun at times it doesn't really help you hone your skills. It also helps you tracking your progress and keeping an eye on how much time you actually spend practicing, which is easy to forget.
From time to time I've kept a practice journal using Excel or Google Spreadsheets, but I always end up forgetting to enter my sessions and there is no ready-made way of visualizing the logged time. I wanted something more tailored for use as a practice journal, but I didn't find any good alteratives that were simple enough. So I created a practice journal app for iPhone and iPad – it was approved by Apple today!
With the OSIRIS GUITAR Journal you can easily:
Set up your practice goals
Add sessions (and connect them to goals)
Upload images of your instruments
Share sessions to Facebook to impress your friends
See statistics of how much you practice
Despite its name, the OSIRIS GUITAR Journal works for any musician, regardless of which instrument you use. It's focused on simplicity of use – and it's free!