Guitar Pro has always been an invaluable tool for my guitar learning. First as a tool to not only read tabs but actually hear them – it's incredible how the wrong tempo/phrasing can transform a tab for a newbie into a completely unintelligeble song. Lately I've been using it to tab down my own compositions, mostly riffs.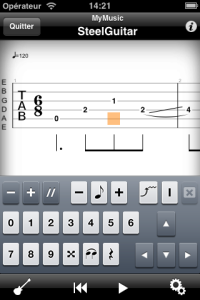 Although Guitar Pro 6 was a step back from GP5 in my opinion – a new binary file format, a more bloated feeling and megazillions of bytes of midi sounds to download – it is still my tool of choice.
The only thing I've really missed is a tab notation tool for my iPhone. Agile has the excellent tab player Tab Toolkit, which is one of my most used apps. I've previously tried Progression, which is really nice – but it's only available for the iPad, which I rarely carry around, and it won't save to Guitar Pro format. The Guitar Pro file format has really become the industry standard for rich tabs (i.e. multi-track will note lengths, tempo etc. – not just text files).
Finally, Arobas – makers of Guitar Pro – have released an iOS version of their software. And best of all, it has editing capabilities! I couldn't be happier! The iPhone has its limits when it comes to input and screen size, but in just a couple of minutes I hade tabbed down my first riff. You can easily export your files to GPX format into the program itself for playback, transfer to your computer via a browser or Itunes. You can also email them as GPX or PDF.
I've only tried Guitar Pro on the iPhone, but it's a universal app that works on the iPad as well. This is a real contender for my main tab app. It has multitrack support and built-in loop functionality for practicing. With the editing functionality it's pretty much the perfect mobile songwriting tool together with SoundCloud (that I use to record hummed riffs  as soon as I think of them). And at €5.99 it's a steal.